A DEPICTION OF CANAAN. AS YOU CAN SEE, HE CLEARLY IS NOT ONE OF US!
IT IS THOUGHT BY MANY OF MY NUWBUN/MOORISH BROTHERS THAT WE ARE DESCENDANTS OF CANAAN. THIS IS NOT NECISSERALLY RIGHT AND EXACT. ACCORDING TO THE SCRIPTURES, CANAAN WHOSE NAME IS LIBANA WHICH MEANS "LOW LANDER" IS THE FATHER OF THE CAUCASION RACES. SO IF CANAAN IS THE FATHER OF THE CAUCASIAN RACES, HOW CAN WE BE DIRECT DESCENDANTS? THIS IS NOT RIGHT KNOWLEDGE SO EYE WILL GIVE YOU ALL THE REAL STORY BACKED UP BY FACTS!
CANAAN, THE SON OF HAM AND HALIYMA, WAS BORN IN 4004 B.C. AND IS THE EUROPEANS ADAM. THEY BASE THERE CALENDER AND TIME FRAME ON THIS FACT. THIS IS WHAT IS MEANT BY THE DEVIL WILL BE GIVEN 6000 YEARS TO RULE AND THAT WAS THE FUSS ABOUT THE YEAR 2000 WHICH IS REALLY THE YEAR 2004 BUT THEY ADJUSTED THERE TIME TO CO-INCIDE WITH CELESTIAL EVENTS THAT WERE TO TAKE PLACE FOR THE YEAR 2000 IN WHICH EYE WILL GET INTO AT ANOTHER TIME. CANAAN WAS THE ONLY SON OF NOAH'S (UTNAFISHTIM) THAT DID NOT MOVE TO NORTHEAST AFRICA. HE DID NOT GO BECAUSE OF HIS CONDITION OF THE CURSE OF LEPROUSY WHICH MADE HIM AN ALBINO. THE CURSE WAS PLACED ON HIS FATHER HAM FOR LOOKING AT HIS FATHERS NAKEDNESS. THE HEBREW WORD FOR NAKEDNESS IN GENISIS 9:22 IS
"ERVAH"
UNDER THE STRONGS CONCORDANCE #06172 WHICH MEANS "SHAMEFUL" OR
"NAKEDNESS"
MEANING THAT HAM LOOKED UPON HIS FATHERS SHAME AS OPPOSED TO JUST HIS BARENESS OR NAKEDNESS WHICH CAUSED HIM TO MOCK HIS FATHERS SHAME. THOSE OF YOU WHO THINK THAT HAM WAS THE YOUNGEST SON OF NOAH ARE IN FOR A BIG SURPRISE. GENISIS 9:24 READS: "
AND NOAH AWOKE FROM HIS WINE, AND KNEW WHAT HIS YOUNGER SON (HAM) HAD ONE UNTO HIM.
" NOW READING THIS VERSE WITHOUT KNOWING THE HEBREW LANGUAGE, (AND WE MUST GIVE PRAISE FOR THE SUPREME GRANDMASTER TEACHER DR. MALACHI Z YORK THE GUIDE FOR THIS DAY AND TIME FOR BRINGING US ALL OF THE TRANSLATIONS OF THE SCRIPTURES FROM THERE ORIGINAL TONGUE), ONE WOULD THINK THAT NOAHS YOUNGEST SON IS HAM. HOWEVER, WHEN YOU LOOK AT THE HEBREW WORD FOR
YOUNGER
, THE WORD
QATON
IS THERE CHECK STRONGS #06996, AND YOU WILL SEE THAT IT MEANS
"LESSER"
AS IN LESS IN QUALITY, UNIMPORTANT, AND INSIGNIFICANT. IT DOES NOT MEAN YOUNGER AS IN AGE LIKE THE HEBREW WORD
TSAWOWR
STRONGS #06810, WHICH MEANS YOUNGEST, LITTLE OR SMALL ONE. THIS IS BEING POINTED OUT TO YOU ALL SO THAT YOU CAN SEE HOW EASILY THE SCRIPTURES HAVE BEEN MISINTERPRETED AND MOST OF US ARE RUNNING AROUND THINKING WE KNOW SCRIPTURES BUT INDEED WE DONT BECAUSE WE DONT TAKE THE TIME TO STUDY THE ORIGINAL LANGUAGES THAT THE SCRIPTURES WERE WRITTEN IN. FURTHER PROOF THAT HAM IS NOT NOAHS YOUNGEST SON IS IN
GENISIS 5:32
WHERE NOAHS SONS ARE FIRST MENTIONED AND IT STATES
"...AND NOAH WAS FIVE HUNDRED YEARS OLD: AND NOAH BEGAT SHEM, HAM, AND JAPHETH"
SO THE ORDER IS LAYED OUT FOR YOU THERE TO SEE JUST IN CASE YOU MAY HAVE ANY DOUBTS OR DOUBT THE SUPREME INTELLECT OF THE SUPREME GRANDMASTER TEACHER DR. MALACHI Z YORK. NOW LET US CONTINUE...
THE CAUCASION ONCE THEY FOUND OUT ABOUT THERE ORIGINS IN THE SCRIPTURES, RE-ARRANGED IT AND MADE IT SEEM LIKE HAM WHOM THEY TRANSLATE AS THE "LESSER" SON, WAS THE CURSED ONE AND NOT CANAAN PERSAY. THE JEHOVA WITNESSES IN THERE BOOK TITLED
DID MAN GET HERE BY CREATION OR EVOLUTION
ON PAGE 407, THAT THE
"BLACK RACE CAME FROM CUSH, NOT DUE TO THE CURSE OF CANAAN, WHOSE DESCENDANTS WERE WHITE"
NOW THIS IS THE EUROPEAN WHO IS ADMITTING THAT HE IS A DESCENDANT FROM CANAAN THE CURSED SEED. IN
THE TEACHERS BIBLE COMMENTARY
WRITTEN BY H. FRANKLIN PASCHALL AND HERSCHEL H. HOBBS, ON PAGE 21 SECOND COLUMN AND EYE QOUTE
NEGROES ARE NOT DESCENDANTS OF CANAAN WHO WAS WHITE, BUT ARE DESCENDANTS FROM HAM. THE CURSE OF WAS NOT PREDICATED UPON ALL OF HAM'S DESCENDANTS, BUT ONLY UPON THE CANAANITES
. THIS BOOK WAS ALSO EDITED BY 25 CAUCASIANS.
IN THE KING JAMES STUDY BIBLE PUBLISHED BY THE THOMAS NELSON PUBLICATION ON PAGE 24, UNDER COMMENTARY FOR GENISIS 9:25 TITLED
CURSED BE CANAAN,
YOU FIND THAT IT STATES, "CANAANITES WERE WHITE AND IN NOW WAY IS IT INTERPETED AS A CURSE ON THE BLACK RACE" THIS IS COMING FROM ALL CAUCASIANS MY BROTHERS AND SISTERS ADMITTING THAT THEY ARE THE "CURSED SEED" OF HAM, CALLED THE CANAANITES.
ANOTHER BIBLE CALLED THE
ZONDERVAN N.A.S.B. (NEW AMERICAN STANDARD BIBLE) STUDY BIBLE, ON PAGE 17
, WITHIN THE COMMENTARY IN REFERENCE TO
GENISIS 9:25
, IT STATES
"...NOAHS PROPHECY CANNOT BE USED TO JUSTIFY THE ENSLAVEMENT OF BLACKS, SINCE THOSE CURSED HERE WERE CANAANITES, WHO WERE CAUCASIAN"
AS EYE HAVE STATED, THE NAME CANAAN MEANS
"LOWLANDER"
BECAUSE CANAAN CAME OUT OF THE MOUNTAINS AND SETTLED IN THE VALLEY. CANAAN SET UP A LAND OVER ANOTHER PEOPLE CALLED THE KADMONITES, AND THUS THIS NEW LAND CAME TO BE KNOWN AS CANAAN. DONT BELIEVE ME LOOK IT UP FOR YOURSELVES. SO WE ARE NOT DESCENDANTS OF CANAAN FROM THAT GEOGRAPHICAL LOCATION, WE WOULD HAVE TO SAY THAT WE ARE DESCENDANTS OF THE KADMONITES. NOW LETS CONTINUE. THIS NEW LAND CANAAN, WHICH IS AN ANCIENT REGION MADE UP OF PALESTINE OR THE REGION BETWEEN THE JORDAN RIVER AND THE MEDITERRANEAN SEA. MANY PEOPLE MOVED INTO THE NEW LAND OF CALLED NOW CANAAN SUCH AS THE
MOABITES
, AND THE
PHILISTINES
, WHICH MADE UP THE LAND CANAAN WHICH BECAME ANOTHER LAND OF NOD BECAUSE PEOPLE WOULD WANDER THERE AND HIDE SO THAT THEY COULD DO ALL TYPES OF DEVILSHMENT. HOWEVER, GOD SENT HIS PEOPLES DOWN THERE BECAUSE IT WAS A FERTILE LAND FLOWING WITH MILK AND HONEY (
EXODUS 3:8
)
CUSH
,
MIZRAIM
AND
PHUT'S
FAMILY WERE ALL NEGROIDS OR WHAT SOME OF YOU WOULD WRONGFULLY CALL "BLACKS". THERE, PHUT'ST FAMILY WERE INVADED BY THE ROMANS.
HERE ARE THE SONS OF CANAAN ALL CAUCASIONS EXCEPT ONE.
11 SONS OF CANAAN
SIDON
BLUE EYES/RED HAIR
TRIBE - SIDIONS
HETH
BLOND HAIR/BLUE EYES
TRIBE - HITTITES
JEBUS
BLACK HAIR/DARK BROWN EYES
TRIBE - JEBUSITES
AMOR
WHITE HAIR/WHITE EYES
TRIBE - AMORITES
GIRGASH
LIGHT BROWN HAIR/GREEN EYE
TRIBE - GIRGASHITE
HIWIY
BLOND HAIR/SILVER EYES
TRIBE - HIWIY
ARKIY
AUBURN HAIR/HAZEL EYES
TRIBE - ARKITE
SINITE
DARK BROWN HAIR/BROWN EYES
TRIBE - SINITES
ZEMAR
BLOND HAIR/CHESTNUT EYES
TRIBE - ZEMARITES
ARVAD
DARK BROWN HAIR/BLUE
TRIBE - ARVADITES
HAMATH
NUWBUN RACE
TRIBE - HAMATHITES
WHICH IS ALSO PROVEN BY THE SCRIPTURES THAT THIS IS WHAT BRED THE CAUCASIAN. ACCORDING TO LEVITICUS 13:30
"THEN THE PRIEST SHALL SEE THE THE SKIN: AND THERE BE IN IT A YELLOW THIN HAIR: THE THE PRIEST SHALL PRONOUNCE HIM UNCLEAN..."
AND WE KNOW THAT THE CAUCASIAN HAS YELLOW THIN HAIR CALLED "BLONDE HAIR" SO WE CANNOT BE THE CANAANITES BECAUSE WE HAVE THICK KINGLY OR WOOLY HAIR AND NOT THIN AND YELLOW HAIR. DENYING THIS IS LIKE TRYING TO DENY YOUR LEFT HAND TO YOU RIGHT ONE. WE ARE SIMPLY NOT THE DESCENDANTS OF CANAAN AND EYE CHALLENGE ANYONE TO SCRITURALLY, GEOGRAPHICALLY, AND GENETICALLY PROVE IT!
AN ALIBINO MOOR WITH FAMILY. SO IMAGINE WITH THE CURSE OF LEPROSY WHICH THINNED THE BLOOD AND MADE THE HAIR YELLOW, HOW SHE WOULD LOOK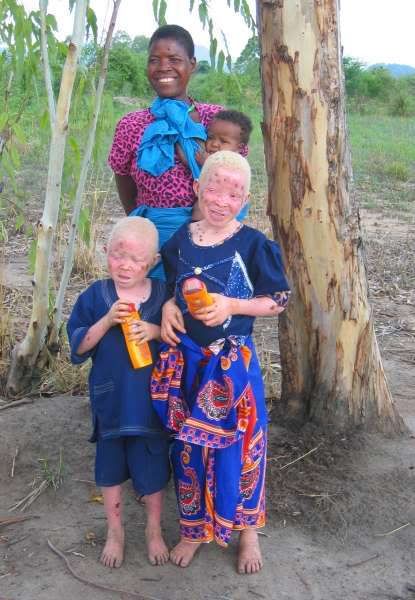 HERE IS A MOTHER WITH TWO ALIBINO CHILDREN NOTICE THERE SKIN WHICH WAS LIKELY CAUSED BY EXPOSURE TO THE SUN. THIS IS WHY CANAAN CHOSE THE MOUNTAINS AND CAVES TO LIVE IN AT FIRST
TODAY THE SONS OF CANAAN ARE STILL IN POWER AND THEY ARE THE SEPHARDIM AND THE KAZAARS AND THE GOYIM. THEY STILL HOLD RITUALS TO THE CANAANITE GOD MOLECH IN BOHEMIAN GROVE ONCE TO TWICE A YEARS FOR THE WORLDS ELITE. THEY HAVE MOCK HUMAN RITUALS TO THE GOD MOLECH AND THAT IS WHY THE DEATH PENALTY IS STILL PREVELANT IN AMERICA TODAY BECAUSE THIS IS HOW THEY SACRIFICE THERE SERVANTS TO THE GODS!
IN THIS DAY AND TIME MY BELOVED FAMILY, WE MUST CORRECT ALL THE ERRORS FROM THE PAST WITH RIGHT KNOWLEDGE. AFTER SEEING THE FACTS, THERE IS NO WAY THAT YOU CAN PROMOTE SOMETHING THAT IS NOT RIGHT AND EXACT. SOME OF YOU WHO HAVE STUDIED UNDER DR. YORK AND ARE MOORS OF WHATEVER DENOMINATION, BUT ARE AFRAID TO TEACH THESE FACTS TO YOUR FLOCK, THEN YOU ARE DOING A GRAVE INJUSTICE TO YOUR ANCESTORS BY PROMOTING MENTAL SLAVERY. WE COME NOT TO CHANGE THINGS, BUT TO CORRECT THEM.